In 1984, Frances A. Genter Stable's homebred Smile became the first horse to sweep the Florida Stallion Stakes on his way to an Eclipse Award-winning career.
By JoAnn Guidry
If there ever was a well-named racehorse, it was Smile. From breaking his maiden in his very first start to becoming a millionaire to earning an Eclipse Award, the speedy Florida-bred brought many smiles to all his connections.
And make no mistake about it, Smile, who was bred and raced by Frances A. Genter Stable, was all Florida breeding. A 1982 dark bay colt by Florida-bred In Reality out of Florida-bred Sunny Smile, by Boldnesian, Smile was a direct result of Genter's breeding program.
Genter bred and raced In Reality, a 1964 bay horse by Intentionally out of My Dear Girl, by Rough'n Tumble. And while she didn't breed My Dear Girl, who was bred by Ocala Stud, Genter raced the filly who became the 1959 North American champion 2-year-old filly. In Reality was a multiple stakes winner of $795,824, who Genter retired to stud at Tartan Farms, where he became one of the Florida breeding industry's most influential sires.
Sunny Smile, the dam of Smile, was also bred and raced by Genter. She earned $62,589 on the racetrack but made her mark as a multiple stakes-producing broodmare. Thanks to Smile, her most accomplished offspring, Sunny Smile was named the 1986 Florida Broodmare of the Year.
With his deep Florida roots, Smile was the perfect poster horse for the Florida Stallion Stakes. Established in 1982, the Florida Stallion Stakes was set up to promote and reward breeding to Florida stallions while showcasing the Florida Thoroughbred breeding industry. There are six races in two divisions for Florida-bred 2-year-olds by Florida stallions; both juveniles and stallions must be registered with the Florida Thoroughbred Breeders' and Owners' Association. The colts and geldings division, which has to date been swept 10 times, consists of the Dr. Fager, Affirmed Stakes and In Reality Stakes. The fillies division, which has to date been swept four times, consists of Desert Vixen Stakes, Susan's Girl Stakes and My Dear Girl Stakes.
The original FSS was run from 1982-2013 at Calder Race Course. With the closing of the latter, the FSS program moved to Gulfstream Park in 2014 and became known as the Florida Sire Stakes and is now administered by the FTBOA.
MAKING FSS HISTORY
Trained by Frank Gomez, Smile made his first start in a maiden special weight on June 16, 1984, at Calder Race Course. He won by an easy three lengths in 1:00.20 for the five-furlong test. He would not start again until Aug. 4 and his second outing would come in stakes company.
In the second division of the Criterium at Calder, Smile displayed his talent once again, besting Spend a Buck by two-and-a-half lengths. Winning time for the five-and-a-half furlongs was 1:07. Of note, Spend a Buck would go on to win the Grade 1 Kentucky Derby in 1985 and garner that year's Eclipse Award as champion 3-year-old colt.
Three weeks later, Smile began his history-making sweep of the Florida Stallion Stakes. First up was the second division of the $42,500 Dr. Fager on Aug. 25 where Smile romped to a four-length victory ahead of Water Gate with Foundation Plan third. Winning time for the six furlongs was 1:13.60.
In the $120,000 Affirmed on Sept. 29, Smile was even more impressive. He sped to a seven-length win ahead of Kejinsky with Emergency Call third. The seven furlongs was covered in 1:24.6.
As fate would have it, the last race in the series is the $400,000 In Reality Stakes, which is named after Smile's sire. On Oct. 20, Smile did his father proud, capturing the In Reality by two lengths faster than Emergency Call with Covert Operation third. Winning time for the eight-and-a-half furlongs was 1:46.
Smile won the three FSS races by a combined 13 lengths in becoming the first horse to sweep the series. He wrapped up his juvenile season undefeated in five starts with earnings of $388,495.
STELLAR SOPHOMORE
After undergoing arthroscopic surgery on both knees following his sweep in the Florida Stallion Stakes, Smile returned for his 3-year-old season with a new trainer in Flint "Scotty" Schulhofer. The latter waited until May 9, 1985, to test his new charge with an allowance race at Calder. Smile passed with flying colors, winning by 10 ¾ lengths. Next up was the listed Carry Back nine days later on May 18 at Calder. Smile responded with another dominating victory, this time by 11 ½ lengths.
Schulhofer shipped his speedy runner to Arlington Park, where he posted a second to Banner Bob in the Grade 2 Sheridan on June 1. It was the first time that Smile had run the mile distance. Two weeks later on June 15, Schulhofer stretched Smile out to nine furlongs in the Grade 1 Arlington Classic. Those who doubted that a sprinter like Smile could win beyond seven furlongs were silenced. Not only did Smile win, he won by seven-and-a-half lengths in 1:51.20 over a sloppy track.
Three weeks later on July 6 at Arlington Park, Smile was third to Belmont Stakes-winner Creme Fraiche in the Grade 1 American Derby at 10 furlongs. But he bounced back on July 21 to win the Grade 3 Fairmount Park Derby going a mile-and-an-eighth by four lengths in track-record time of 1:49.
The end game for Smile's season was the Grade 1 Breeders' Cup Sprint on Nov. 2 at Aqueduct. Returning to sprint distances in non-stakes company, Smile was second in an allowance race at Canterbury Downs and third in an overnight handicap at Belmont Park.
Schulhofer's cagey plan might have worked to perfection if not for fellow Florida-bred Precisionist. After an opening quarter by Mt. Livermore in :22 flat, Smile took over and posted a :44 4/5 for the half-mile. Precisionist came charging down the stretch on the outside to best Smile by three-quarters of a length in 1:08 2/5, which was a stakes record for the Breeders' Cup Sprint at the time. The victory would earn Precisionist the 1985 Eclipse Award as champion sprinter.
Smile wrapped up his sophomore season with four wins, including two graded, three seconds, two of which were graded, and two thirds, both graded, in 10 starts with earnings of $530,667. He was named the 1985 Florida-bred champion 3-year-old colt while Precisionist was the Florida-bred Horse of the Year and champion sprinter.
CHAMPIONSHIP SEASON
Smile's 1986 season was an uneven one that somehow ended with an Eclipse Award. He managed two allowance wins and off-the-board finishes in graded stakes before posting a victory in the Listed Canterbury Cup going nine furlongs on July 13. His winning time of 1:48 equaled the track record. And with the win, Smile became a millionaire.
He followed that with a third in the Grade 2 Cornhusker Handicap at nine furlongs at Ak-Sar-Ben on July 26. With the Breeders' Cup, once again being the season's goal, Schulhofer began dropping the race distance. He saddled his charge to a victory in the Grade 3 Equipoise Mile Handicap on Aug. 30 at Arlington Park. But in the seven-furlong Philadelphia Park Budweiser Breeders' Cup Handicap on Sept. 27, Smile finished an uncharacteristic sixth. He would not start again until the Breeders' Cup Sprint on Nov. 1 at Santa Anita Park.
Smile and Pine Tree Lane broke in tandem until midstretch where Smile took over, pulling away to win by a length-and-a-quarter. His final time for the six furlongs was 1:08 2/5, tying Precisionist's 1985 Breeders' Cup Sprint time. Also on the 1986 Breeders' Cup card, Precisionist finished third in the Grade 1, $3 million Classic won by Skywalker.
On the season, Smile posted five wins, two graded, and one graded third in nine starts while banking $704,678. Smile was tabbed as the 1986 Florida-bred champion sprinter while Precisionist was once again the Florida-bred Horse of the Year and champion handicap male. And the cherry on the top of Smile's outstanding season and career was garnering the 1986 Eclipse Award as champion sprinter.
CURTAIN CALL
All things must come to an end and for Smile's career, it was the 1987 season. He opened the season on Jan. 3 at Calder with a second in the Listed Tropical Park Budweiser Breeders' Cup Handicap. But then came two fifth-place finishes in the Grade 2 Seminole Handicap at Hialeah Park and Gulfstream Park Budweiser Breeders' Cup Handicap, respectively. Smile was soon retired after the latter finish.
In 27 starts, Smile posted 14 wins, 10 graded including two Grade 1s, four seconds, three black type, and three thirds, all black type. He banked career earnings of $1,664,027.
With Smile's retirement came the good news that Genter was going to stand her champion at Tartan Farms, where he would join his sire In Reality. But that excitement was short-lived when only months later came the bad news that Tartan Farms was ceasing breeding operations. Tartan Stables would continue to race its horses through 1988. But its yearlings were sold on Saturday, Sept. 12, 1987 at Fasig-Tipton Kentucky Inc. at Newtown Paddocks in Lexington. Broodmares, weanlings and stallion shares were later sold through Fasig-Tipton Kentucky on Nov. 15, 1987.
After the 1988 breeding season, Smile and his sire In Reality were moved to Gainesway Farm in Lexington, Ky. Sadly, 25-year-old In Reality was humanely euthanized due to laminitis on May 8, 1989. Smile remained at Gainesway Farm through the 1993 breeding season before being sold and moving to Texas-based McDermott Ranch.
According to The Jockey Club, Smile sired 277 named foals with 147 winners, including 11 stakes winners. Among his stakes winners were graded stakes winner Goldseeker Bud, who won the 1995 Churchill Downs Handicap (G3), as well as multiple stakes winners Smiling Time and Lavender.
Smile died at 15 on June 4, 1997, from the complications of equine protozoal myeloecephalitis (EPM).
In 1999, the Miami Beach Sprint Handicap at Calder Race Course was renamed the Smile Sprint and has been a Grade 3 since 2003. It was moved to Gulfstream Park in 2014 and fittingly, is a "Win and You're In" race for the Grade 1 Qatar Racing Breeders' Cup Sprint.
Going back to the inception of the Miami Beach Sprint Handicap in 1984 at Calder, Florida-breds have dominated the race, winning the first five editions beginning with I Really Will and continuing with Opening Lad (1985), Jeblar (1986), Princely Lad (1987) and Position Leader (1988). Other Florida-bred winners of the Miami Beach Sprint Handicap include Groomstick (1990), Greg At Bat (1991), My Luck Runs North (1992), Exclusive Praline (1994), Request a Star (1995), Constant Escort (1996) and Heckofaralph (1998).
Since being named the Smile, the race has been dominated by Florida-breds beginning with Forty One Carats in 2000. Other Florida-bred winners of the Smile include Fappie's Notebook in 2001, Shake You Down (2003), Nightmare Affair (2006), Mach Ride (2007), Benny the Bull (2008), Big Drama (2010), Bahamian Squall (2013), Delta Bluesman (2016), Imperial Hint (2017), X Y Jet (2018), Willy Boi (2022) and Dean Delivers (2023).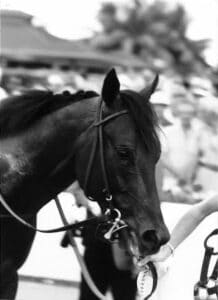 SMILE
1982 bay horse by In Reality – Sunny Smile, by Boldnesian
Breeder/Owner: Frances A. Genter Stable Inc.
Trainers: Frank Gomez/Flint "Scotty" Schulhofer
Career Race Record/Earnings
27-14-4-3/$1,664,027
Career Blacktype Stakes Wins
1984 FSS Dr. Fager Stakes
1984 FSS Affirmed Stakes
1984 FSS In Reality Stakes
1984 Criterium Stakes (Div 2)
1985 Arlington Classic (G1)
1985 Fairmount Park Derby (G3)
1985 Carry Back Stakes (L)
1986 Breeders' Cup Sprint (G1)
1986 Equipoise Mile (G3)
1986 Canterbury Cup Handicap (L)
Highest Honor
1986 Eclipse Award Champion Sprinter